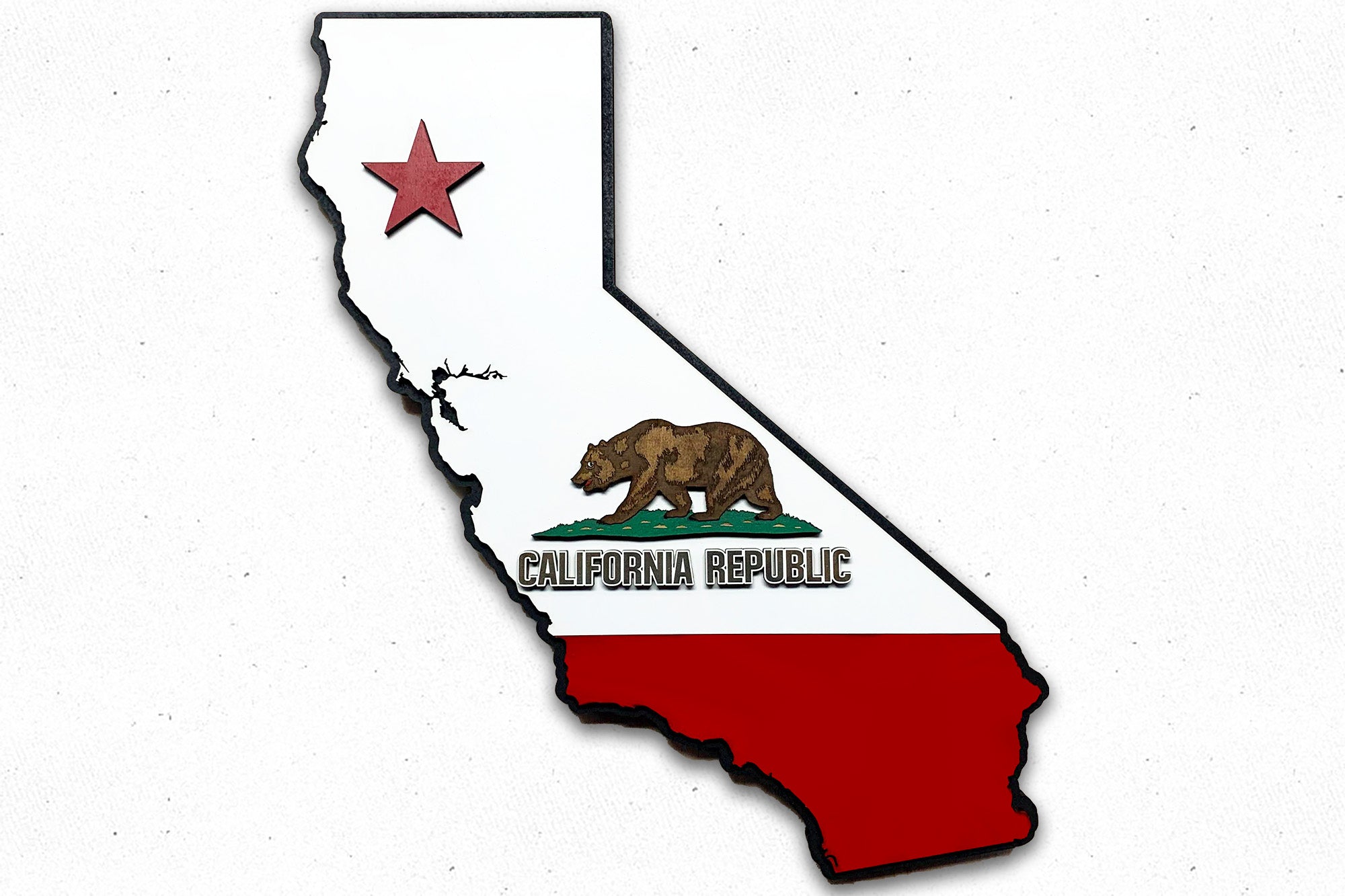 One of our newest flags is the California state flag, also known as the Bear flag. The flag was adopted by California on February 3, 1911. The design of the flag includes a background which is white with a thick red border along the bottom. The red star and bear were taken from original Bear flag where the bear represents strength and unyielding resistance. While the original flag used a black bear, the current design uses a grizzly bear.
We greatly benefited from this build by having the complete design specifications for dimensions, cuts, sizes and colors already laid out in California's 1911 flag statute. Zero guesswork was required to complete the production allowing us to produce a true replica of the flag. We used raised elements for the bear and star, which provided the distinctive visual feature all of our flags incorporate. Brown paint was used for the lettering "CALIFORNIA REPUBLIC" while for the bear, we decided to stain the wood with a dark walnut shade. This beautifully brought out the grain of the cedar wood giving the flag a clearly unique look.
In 1846, California was still part of Mexico. An uprising against Mexican rule began in June of the that year. During this first revolt, rebels were able to seize Monterey just south of San Francisco and declared California "a free and sovereign state". The rebellion, which lasted for a month, failed to secure independence for California, but it did inspire the design of the Bear flag. The original flag was raised for the first time in Sonoma, California, in June 1846 by the men who became known as the "Bear Flaggers," named for their role during the Bear Flag Revolt.
We currently offer three different sizes of the flag. To purchase, visit the California Wood Flag product page. If you require a larger size, feel free to contact us. We can build this flag as large as 75x50 inches and can ship nationwide.