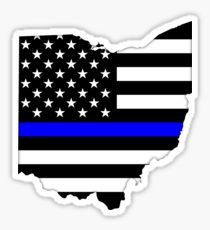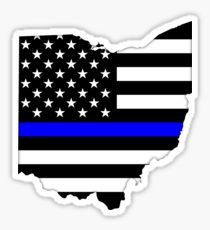 Thin Blue Line Ohio Wood Flag
$ 199.95
Sizes available:
20" height
24" height
30" height
Inquire if you would like another US State.
The Thin Blue Line is a symbol used by law enforcement to commemorate fallen officers and to symbolize the relationship of the police in the community as the protectors of the citizenry from the criminal element. Each stripe on the emblem represents certain respective figures: the blue center line represents law enforcement, the top black stripe represents the public whilst the bottom represents the criminals.
This Patriot Wood flag has a raised element providing a 3D look.  Each wooden flag we produce is replicated to match the flag's true colors and dimensions.  Our flags will make a beautiful addition to your home.  The grain of the wood, the boldness of the colors and the raised elements that are featured in our flags will provide a conversation piece that all your friends will rave about.
Products shipped within the United States are sent via FedEx Ground/Home Delivery (tracking number provided).  Custom orders accepted - contact us to inquire.